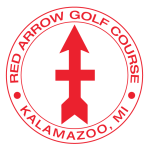 As a one-mile walking course, Red Arrow provides low-cost, high-value golf as a community service. It plays quickly and offers a great variety of short-game skill practice. The par 29 riverside terrain is a pleasurable recreational opportunity only minutes from Kalamazoo's central business district. With ample parking and the ability to rent clubs on-site, this versatile layout supplies challenges to time-crunched experienced golfers, yet adapts well to juniors, novice golfers, and mobile seniors.
Red Arrow added Foot Golf in 2015, and Disc Golf in 2016, helping attract more people from all backgrounds and keeping with Red Arrow's mission of being a downtown recreational destination for all families.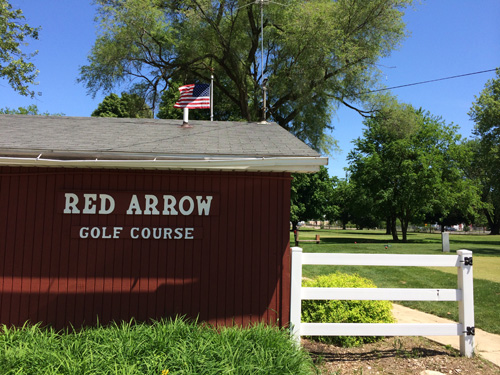 Red Arrow Golf Course
1041 King Highway, Kalamazoo, MI 49048
(269) 492-7800
Hours of Operation:
Mid-April – Mid-October
8:00 am – 8:00 pm
Red Arrow History
Red Arrow is a downtown community greenspace established in 1937 as part of the WPA's Depression reconstruction efforts when workmen earned /week, although the first City Commission began acquiring land along the south bank of the river in 1885. Later foresight by succeeding commissions and the demise of the Michigan Buggy Co. in the 1920's added remaining acreage.
Aerial mapping now shows a green triangle of city parkland, forever commercially undevelopable to serve recreation needs of residents, organizations, and businesses. What began as a putt-and-pitch course in 1937 is now a gem of downtown Kalamazoo.
One of many volunteer projects, a memorial flagpole was dedicated in 2013 to commemorate Red Arrow's 75th anniversary of community recreation in Kalamazoo and to the men and women who served their country in the armed services. Red Arrow Golf Course is named after Col. Joseph Westnedge's division in WWI. Eagle Scout Chaz Shugars raised the funds from veterans' groups and community businesses and organizations, arranged volunteer labor, and opened the golf season with appropriate ceremony. Red Arrow has a special appreciation for veterans.
Committed volunteers from all over the county have rejuvenated Red Arrow in the past four years as a casual, walk-on course for all ages. Scores of residents drop in to tell of learning to play golf as children on this course. With a casual dress code and no reserved tee times, this walk-on ready course is focused on the game of golf, rather than the business of golf, and provides high value with every swing.

Rates
2023 KMGA Regular Daily Rates
9 Holes
Milham Park
Eastern Hills
Red Arrow
Adult (Weekends/Holidays)
$18.00
$16.00
$5.00
Adult (Weekdays)
$17.00
$15.00
$5.00
Senior (60+)
$13.00*
$12.00*
$4.50
Student / Military (w/ID)
$13.00*
$12.00*
$4.50
Junior (17-)
$10.00
$10.00
$4.00
1/2 Golf Car
$10.00
$10.00
NA
1/2 Golf Car (member)
$8.00
$8.00
NA
Full Golf Car**
$20.00
$20.00
NA
18 Holes
Milham Park
Eastern Hills
Red Arrow
Adult (Weekends/Holidays)
$29.00
$27.00
$9.00
Adult (Weekdays)
$27.00
$24.00
$9.00
Senior (60+)
$22.00*
$20.00*
$8.00
Student / Military (w/ID)
$22.00*
$20.00*
$8.00
Junior (17-)
$15.00
$15.00
$7.00
1/2 Golf Car
$20.00
$20.00
NA
1/2 Golf Car (member)
$16.00
$16.00
NA
Full Golf Car**
$40.00
$40.00
NA
* Senior, Student, Military rates valid Mon-Fri before 3:00, weekends/holidays after 1:00
** Full golf car pricing applies to any group with more than 1 empty seat
Other
Milham Park
Eastern Hills
Red Arrow
Range Token (~30 balls)
$6.00
$6.00
NA
Range Token (member)
$5.00
$5.00
NA
Short Game Practice Area Daily
$5.00
$5.00
NA
Push Cart 9/18
$3.00/$5.00
$3.00/$5.00
$1.00/$1.50
Club Rental 9/18
$10.00/$15.00
$10.00/$15.00
$3.00/$4.00
Scorecard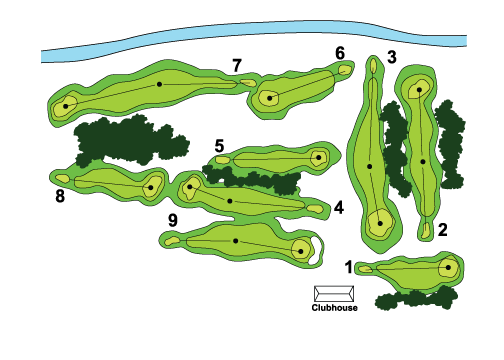 Volunteer for Routine and Special Projects at Red Arrow Golf Course:
Clubhouse Attendant — four- or five-hour shifts, April–October
Game Coach/Mentor — three 1-hour sessions, May–August
Flower-bed Tenders — one 2-hour shift/week, mid-April–mid-October
Fence-line Trimmers — one 3-hour shift/month, mid-April–mid-October
Bunker Tender — one 1-hour shift/month, April–October
Web Site Developer — March–September as arranged
For current openings, contact the Volunteer Coordinator at mbg.1154@gmail.com 
or phone (269) 492-7800.
Support Red Arrow Golf Course Benefit
Join the Kalamazoo Municipal Golf Association fundraising effort for Red Arrow Golf Course at a fun-filled Golf Benefit.
Click here to download the Red Arrow Golf Course Brochure
Thank you to the Red Arrow Benefit Sponsors
Title Sponsors:
Ron & Ruth Wiser
Wiser Productions, Inc.
Sponsors:
Portage Printing – Printing Sponsor
Island Catering /Pat Rafferty – Food Sponsor
WRKR Town Square Media – Media & Advertising Sponsor
The Sign Shop – Sign Sponsor
Coca Cola – Beverage Sponsor
Imperial Beverage – Beverage Sponsor
National Flavors – Snack Sponsor
LVM Capital Management LTD– Snack Sponsor
Forum Communications/Bob Brink – Cart Sponsor
Bullard Brothers, Inc. – Cart Sponsor
LVM Capital Management LTD– Cart Sponsor
Ellis Sales, Inc. – Cart Sponsor
John Bradshaw, PC – Team Sponsor
Keystone Community Bank/Mercantile Bank – Team Sponsor
Chemical Bank – Team Sponsor
Tee Sponsors:
Barry Associates – John Bradshaw, PC – Bob Campbell – Crosstown Auto and Truck Parts LLC – Dave Burskirk – Dedicated to Ray Hamilton – Dedicated to Dawne Kennedy – Fair Trade Painting – First National Bank of Michigan – Gilmore Real Estate LLC – Julianna's Family Restaurant – Keystone Community Bank/Mercantile Bank – Dave Keyte, Callander Commercial – Gary Lewis Painting – Bill Maybee, Attorney at Law – Medallion Management – OCBA O'Boyle Cowell Blalock & Associates Landscape Architects – Randy Orwig, Amerprise Chimner & Orwig – Shoemakers Garage – Dave, Tammy & Chaz Shugars – Michael Stangl, Farm Bureau Insurance – Suburban Mechanical Company – Gary Tibble Law Office – Jackie Wylie
Prize & Gift Donations:
Big Apple Bagels – Binder Park Golf Course – Brewster's– Burger King – Brann's Steakhouse – Checker Motors – Crestview Golf Club – Golf Performance Academy – Gazelle Sports – Golf Services – Gull Lake County Club – Gull Lake View Courses – Hoekstra's Hardware – Indian Run Golf Club – Island Catering – Junior Golf Association – Kalamazoo Country Club – Louie's Trophy House Grill – Poor Richard's Café – The Prairies/ Elks Lodge 50 – Red Arrow Golf Course – Ridgeview Golf Course – Sarkozy Bakery – Schupan & Sons – Shamrock Hills Golf Club – Thornapple Creek – Yarrow Golf – Youz Guys Sausage Co
Friends of Red Arrow:
Dr. Joseph Bowler – King Market – Bill Gross – Joyce McNally – Herman & Dolores Smith – Mike & Sharon Seelye – Pete Farner –  In Memory of Laurette & Joe Ocen
Hire a Red Arrow Mentor
New to golf and want to learn the rules? Been playing a while and looking for tips on your GRIP, SWING, PUTTING, or ETIQUETTE?

Red Arrow mentors are non-professional golf enthusiasts who love helping people learn to love the game more. Red Arrow mentors share tips, review basics about the game, and help you gain the confidence for enjoying golf.
Call the Red Arrow Clubhouse to make a low-cost appointment (approximately ). All fees benefitting Red Arrow Golf Course and programs. For more in-depth lessons, contact a certified golf pro.